This page gets updated throughout the year with new programs, so please check back with us often. If you would like to be
notified of future events
, please visit our
Contact Us
page.
Unless otherwise stated, all performances are at Whippoorwill Hall, 19 Whippoorwill Road East, Armonk, NY 10504. Please use the Kent Place entrance. Directions to the theatre, which is adjacent to the North Castle Public Library, can be found on our Travel Directions page.
Tickets for programs with an admission charge may be purchased at the door on the evening of the performance. When advance ticket sales and reservations are offered, it will be noted below.
Upcoming programs: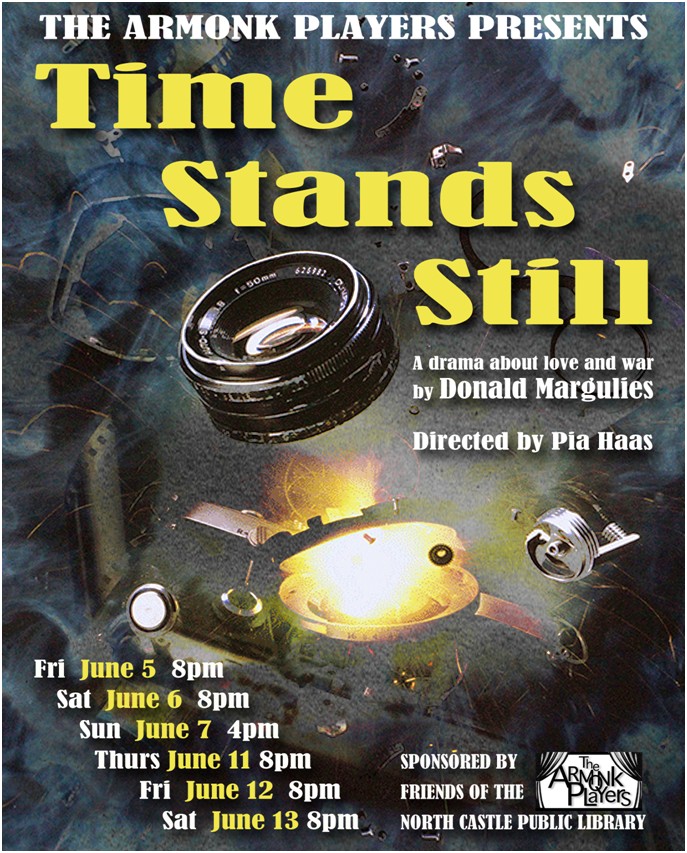 Friday, June 5, 2015 at 8pm
Saturday, June 6, 2015 at 8pm
Sunday, June 7, 2015 at 4pm
Thursday, June 11, 2015 at 8pm
Friday, June 12, 2015 at 8pm
Saturday, June 13, 2015 at 8pm

The Armonk Players Presents
Time Stands Still
By Donald Margulies
Directed by Pia Haas
With: Tom Coppola, P. J. Glazer, Liz Harrington and Amber Mason
Adults
: $20,
Students (18 and under)
: $10
Time Stands Still is the story of James and Sarah, a journalist and a photographer, who have been together for nine years and share a passion for documenting the realities of war. But when injuries force them to return home to New York, the adventurous couple confronts the prospect of a more conventional life. A blazingly important new work about responsibility - to ourselves, to our loved ones, to our community, and to our world. In a script The New York Times says "crackles with bright wit and intelligence", this Broadway-hit play by Pulitzer Prize-winner Donald Margulies is a witty, intelligent look at what happens when ordinary life is refracted through the lens of war.
Ticket Purchase Information
"Walk-ins" are always welcome (we have ample seating), but we recommend that you purchase your tickets in advance online -- you choose the exact seats you want, there is less waiting in line and you may pay with a debit card, credit card or PayPal account.
"Walk-ins" may only pay with cash or by check
-- we don't accept credit cards at the theater.
If you can't make it to the performance and you let us know at least two hours prior to curtain by forwarding your reservation confirmation to tickets@armonkplayers.org, we will gladly exchange your tickets for another performance. Because of fees we pay on these transactions, we regrettably cannot offer refunds.
We stop taking online ticket sales for a given performance from one to two hours prior to curtain. If you are trying to purchase tickets online for the current day's performance and find that the performance does not appear as one of the choices in the list of performances that are on sale, it just means that we have stopped doing online sales for that performance; you may still "walk-in" and purchase tickets at the box office.
The box office opens 45 minutes prior to curtain and tickets previously purchased online for that performance may be picked up then (bring your reservation confirmation with you). If you are a walk-in and paying by check, make it out to Friends of the North Castle Public Library, Inc. or FNCPL, Inc..