This page gets updated throughout the year with new programs, so please check back with us often. If you would like to be
notified of future events
, please visit our
Contact Us
page.
Unless otherwise stated, all performances are at Whippoorwill Hall, 19 Whippoorwill Road East, Armonk, NY 10504. Please use the Kent Place entrance. Directions to the theatre, which is adjacent to the North Castle Public Library, can be found on our Travel Directions page.
Tickets for programs with an admission charge may be purchased at the door on the evening of the performance. When advance ticket sales and reservations are offered, it will be noted below.
Upcoming programs: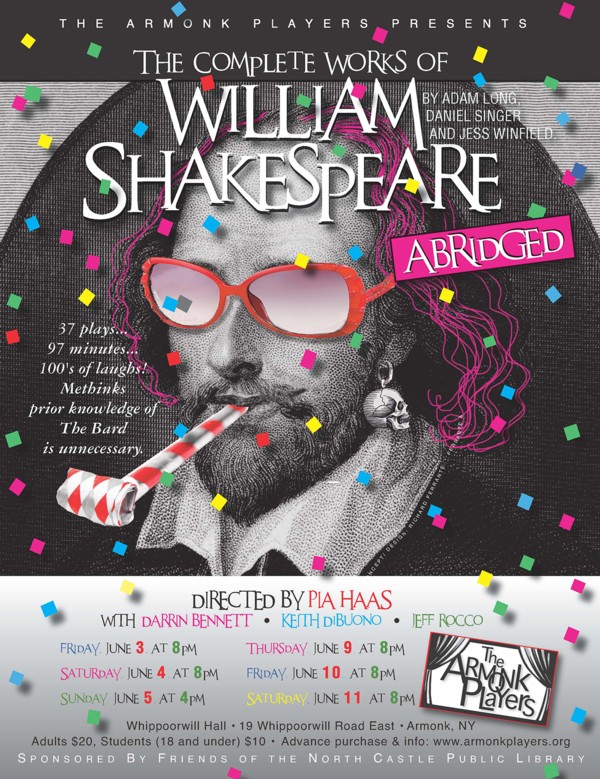 Poster Design & Graphics: Richard Ferrante. Ferrante & Associates. Advertising / Design
Friday, June 3, 2016 at 8pm
Saturday, June 4, 2016 at 8pm
Sunday, June 5, 2016 at 4pm
Thursday, June 9, 2016 at 8pm
Friday, June 10, 2016 at 8pm
Saturday, June 11, 2016 at 8pm

The Armonk Players Presents
The Complete Works of William Shakespeare (Abridged)
By Adam Long, Daniel Singer and Jess Winfield
Directed by Pia Haas
With: Darrin Bennett, Keith DiBuono and Jeff Rocco
Adults
: $20,
Students (18 and under)
: $10
"The Complete Works of William Shakespeare (Abridged)" is one of the world's most frequently produced plays, and has been translated into several dozen languages. Featured are all 37 of Shakespeare's plays, meant to be performed in 97 minutes, by three actors. Fast paced, witty, and physical, it's full of laughter for Shakespeare lovers and haters alike.
Fun for the entire family!
Ticket Purchase Information
"Walk-ins" are always welcome (we have ample seating), but we recommend that you purchase your tickets in advance online—you choose the exact seats you want, there is less waiting in line and you may pay with a debit card, credit card or PayPal account.
"Walk-ins" may only pay with cash or by check
(made out to either
Friends of the North Castle Public Library, Inc.
or
FNCPL, Inc.
)—we don't accept credit cards at the theater.