This page gets updated throughout the year with new programs, so please check back with us often. If you would like to be
notified of future events
, please visit our
Contact Us
page.
Unless otherwise stated, all performances are at Whippoorwill Hall, 19 Whippoorwill Road East, Armonk, NY 10504. Please use the Kent Place entrance. Directions to the theatre, which is adjacent to the North Castle Public Library, can be found on our Travel Directions page.
Tickets for programs with an admission charge may be purchased at the door on the evening of the performance. When advance ticket sales and reservations are offered, it will be noted below.
Upcoming programs: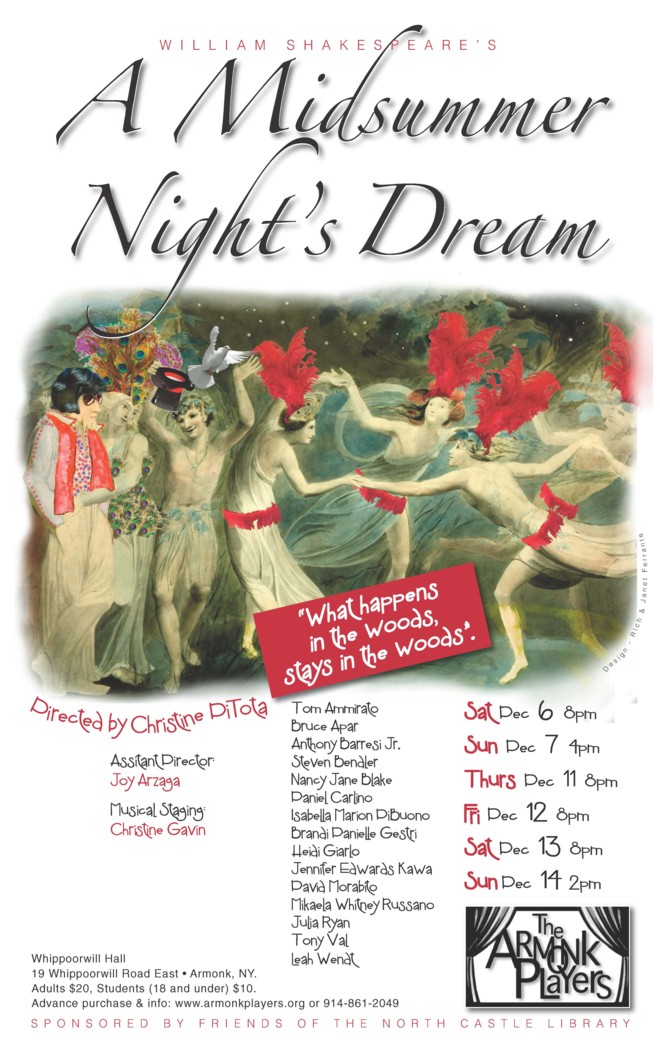 Saturday, December 6, 2014 at 8pm
Sunday, December 7, 2014 at 4pm
Thursday, December 11, 2014 at 8pm
Friday, December 12, 2014 at 8pm
Saturday, December 13, 2014 at 8pm
Sunday, December 14, 2014 at 2pm

The Armonk Players Presents


A Midsummer Night's Dream


By William Shakespeare
Directed by Christine DiTota
Assistant Director: Joy Arzaga
Music Arrangements: Michelle DeAngelis
Musical Staging: Christine Gavin
Magic Consultant: Charles Hallock
With: Tom Ammirato, Bruce Apar, Anthony Barresi Jr., Steven Bendler, Nancy Jane Blake, Daniel Carlino, Isabella Marion DiBuono, Brandi Danielle Gestri, Heidi Giarlo, Jennifer Edwards Kawa, David Morabito, Mikaela Whitney Russano, Julia Ryan, Tony Val and Leah Wendt


Adults

: $20,

Students (18 and under)

: $10
William Shakespeare's comedy, A Midsummer Night's Dream, replete with confused lovers, mischievous fairies, eager to please mechanicals and a changeling is one of his most popular and widely-performed plays. The Armonk Players has retained the exquisite beauty and delightful humor of the Bard's words and story while steering this production in a new and imaginative direction. There are many surprises in store! Set in modern time, be assured that "what happens in the woods stays in The Woods." This playful presentation will be can't-miss fun for the whole family. We think the Bard of Avon would be quite pleased!
Ticket Purchase and Reservation Information
"Walk-ins" are always welcome but we recommend that you take advantage of one of several options we offer for purchasing or reserving tickets in advance.
The box office opens 45 minutes prior to curtain and tickets previously reserved or purchased online for that performance are picked up then. If paying by check, make it out to Friends of the North Castle Public Library, Inc. or FNCPL, Inc..
To avoid double bookings, we request that if you reserve by phone, then do future communications by phone. Likewise, if you purchase or reserve online, then do future communications by e-mail to tickets@armonkplayers.org.
Tickets may be purchased online here. We accept most popular credit cards or PayPal and you get to choose your own seats! If you can't make it to the performance, let us know in advance and we will be happy to swap your tickets for another performance. But because of fees we pay on these transactions, we regrettably cannot offer refunds.

Tickets may be reserved in advance and paid for on the day of the performance by filling out and submitting this online reservation request form.

If you do not receive a confirmation e-mail, you might have entered your e-mail address incorrectly. Do not submit a new reservation request form. Instead, send us an e-mail from the e-mail account you think you used telling us your name and letting us know that you are missing a reservation confirmation. We will investigate and get back to you.

If for some reason you cannot make it to the performance, please e-mail us as early as possible so that we can release your reservation. We reserve the right to make available to the general public any reservations that have not been picked up at least 10 minutes prior to curtain. Thank you for understanding.

Tickets may be reserved in advance and paid for on the day of the performance by phoning (914) 861-2049. We offer this option primarily for those who do not have computer access. If you are reading this, that is probably not you and we much prefer that you use the above better-in-every-way online reservation form.

Leave your full name (please spell your last name), performance date, number and type of tickets and a phone number in case we need to contact you. We regret that we do not have the resources to be able to confirm phone reservations with call backs. So if you need a confirmation, then purchase or reserve using one of our online methods.

Please phone us as early as possible if you cannot keep a reservation.

Tickets may be purchased in advance at Framings, 420 Main Street, Armonk, NY 10504, (914) 273-4242, to whom we give a small block of centrally located tickets to sell for us.
We stop doing online reservations and ticket sales for a given performance up to two hours prior to curtain. So if you are trying to purchase or reserve tickets online for the current day's performance and find that the performance does not appear as one of the choices, you may still purchase tickets at the box office. Likewise, we cannot guarantee that we will hear your phone reservation request if made within two hours of a performance. But the hall is large and the odds of our finding you excellent seats are great.